15 Oct 2014
From: Higgins, Richard
Sent: Tuesday, October 14, 2014 2:20 PM
To: John Glasgow
Cc: Erwin Schwartz
Subject: FW: DDI Hex
John,
A couple of questions to follow up:
Please let me know any other comments about condition of HEX after 5 years of service?  It looks like it has performed well and provided very good service?  Excellent condition and good service.
Just curious what was reason for inspection?  Operators typically open to clean only if required.  Did you notice higher than normal pressure drop?  There has been no problems, we have had the DDI for 6 years and decided due diligence demanded we clean and inspect the inside.
John Glasgow
Maintenance Supervisor II
Lions Gate Wastewater Treatment Plant
Maintenance WWTP Division
Operations & Maintenance Division
Metro Vancouver
==================================
From: "Martin, Kip" <KMartin@cityoftulsa.org>
To: "Erwin Schwartz (erwin@ddi.ca)" <erwin@ddi.ca>
Date: Tue, 15 Jul 2014 10:16:13 -0500
Subject: Pasteurization system
We have had many problems with the pasteurization system since it was started up in 2007. We had to change pumps, grinders, controls, valves, piping, etc. The only components we didn't have problems with were the heat exchangers. When we modified the system to eliminate the vessels and no longer attempted to pasteurize the sludge we employed one pump, one heat exchanger, and the boiler leaving the other equipment idle. We heat the sludge and send it to the digesters where the treatment takes place for class B biosolids.
Kip Martin | Operations Supervisor
City of Tulsa Water & Sewer Department
5628 N. 105 E. Ave. Tulsa, OK 74117
T: 918-591-4552
F: 918-699-3946
E: kmartin@cityoftulsa.org
www.cityoftulsa.org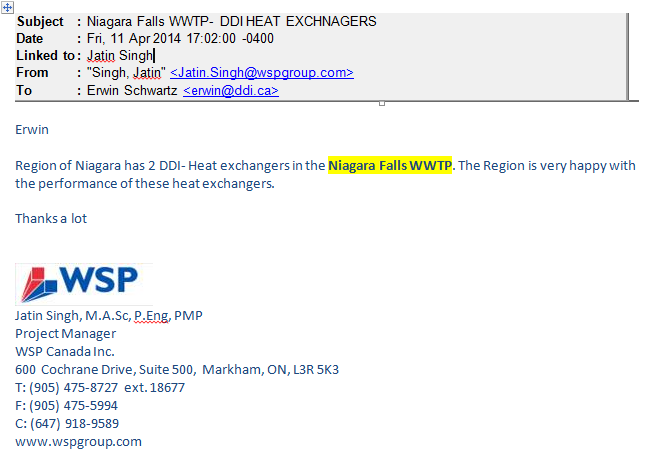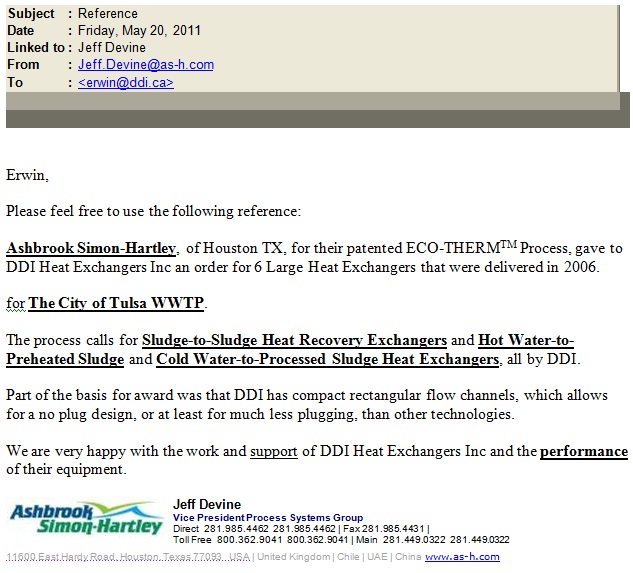 01 April 2011
With the financial support of the Emerging Technologies Program at Natural Resources Canada, DDI successfully designed and built a Rectangular, Square, Cube TM heat exchanger for heat recovery from a liquid with a high  solids content. The heat exchanger was installed for a test at a factory in the USA. The Rectangular, Square, Cube TM unit was used to recover heat from a stream of hot molasses containing approximately 65% solids. During  the test the heat exchanger operated at its designed effectiveness  and did not plug."
Tom Jewett, P.Eng.
Industrial Applications Officer
CanmetENERGY
Government of Canada/ Natural Resources Canada
Building 3, Room 204  Édifice 3, bureau 204
1 Haanel Drive, Nepean, Ontario K1A 1M1
Telephone (613) 996-0890 ,  Facsimile: (613) 995-7868
TECHNICAL MEMORANDUM                                                               CH2MHILL
Heat Exchanger Vendor Reviews for Approved Equipment List
PREPARED FOR:                 Josh Shurr-Region of Halton
PREPARED BY:                   Brandon Elliott
Jose Bicudo
Don Holland
DATE:                                                June 20, 2005
PROJECT NUMBER:            324762
Objective
The objective of this Technical memorandum is to report the results of the heat exchanger
vendor  reviews for the Region of Halton's approved equipment list.
Summary
The heat exchangers were evaluated based on the equipment review criteria developed by
the Region, but modified to better suit the type of equipment being reviewed.  The
definitions of the terms (used as criteria) are given in the vendor  review tables in Appendix
A.  The scores were scaled to a final score out of 100, and a score of less than 50% was
considered to be a fail.  The following heat exchanger manufacturers/suppliers were
contacted: Napier-Reid, Walker, and DDI.   The three manufacturers/suppliers evaluated,
passed the review with the following scores: l) Napier-Reid – 83.3%, 2) Walker – 60.4%, 3)
DDI – 90.4%.  DDI Heat Exchangers obtained an overall higher score than the other two
manufacturersbecause they only have two installations in operation, which indicates
limited practical experience.  The two references provided by DDI described the heat
exchangers to be reliable and problem free, and as a result, they scored high on quality and
maintainability.   DDI also had the lowest cost of the compared heat exchangers, and scored
high in that category.  DDI was not severely penalized for a lack of references, because
references only had a weighting of  l.  The following are recommended for the approved
equipment list.
1)  Napier-Reid
2)  Walker
3)  DDI Heat Exchangers
All of the manufacturers/suppliers passed the review and were found to be acceptable for
the approved equipment list for the Region of Halton.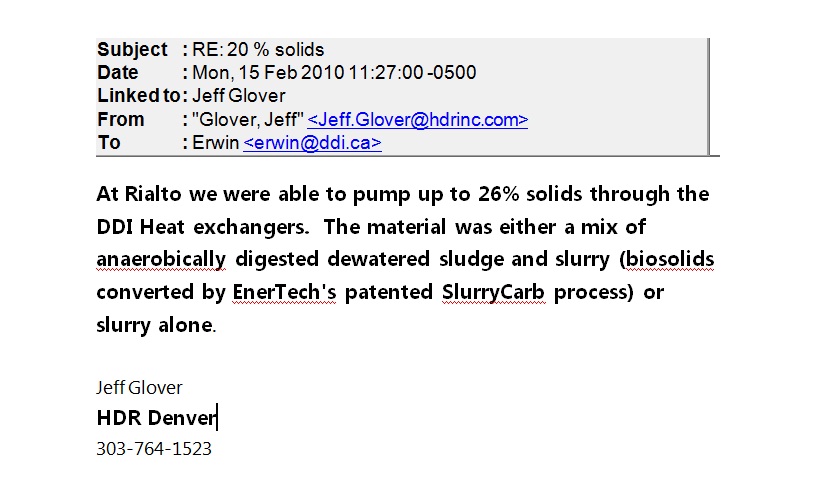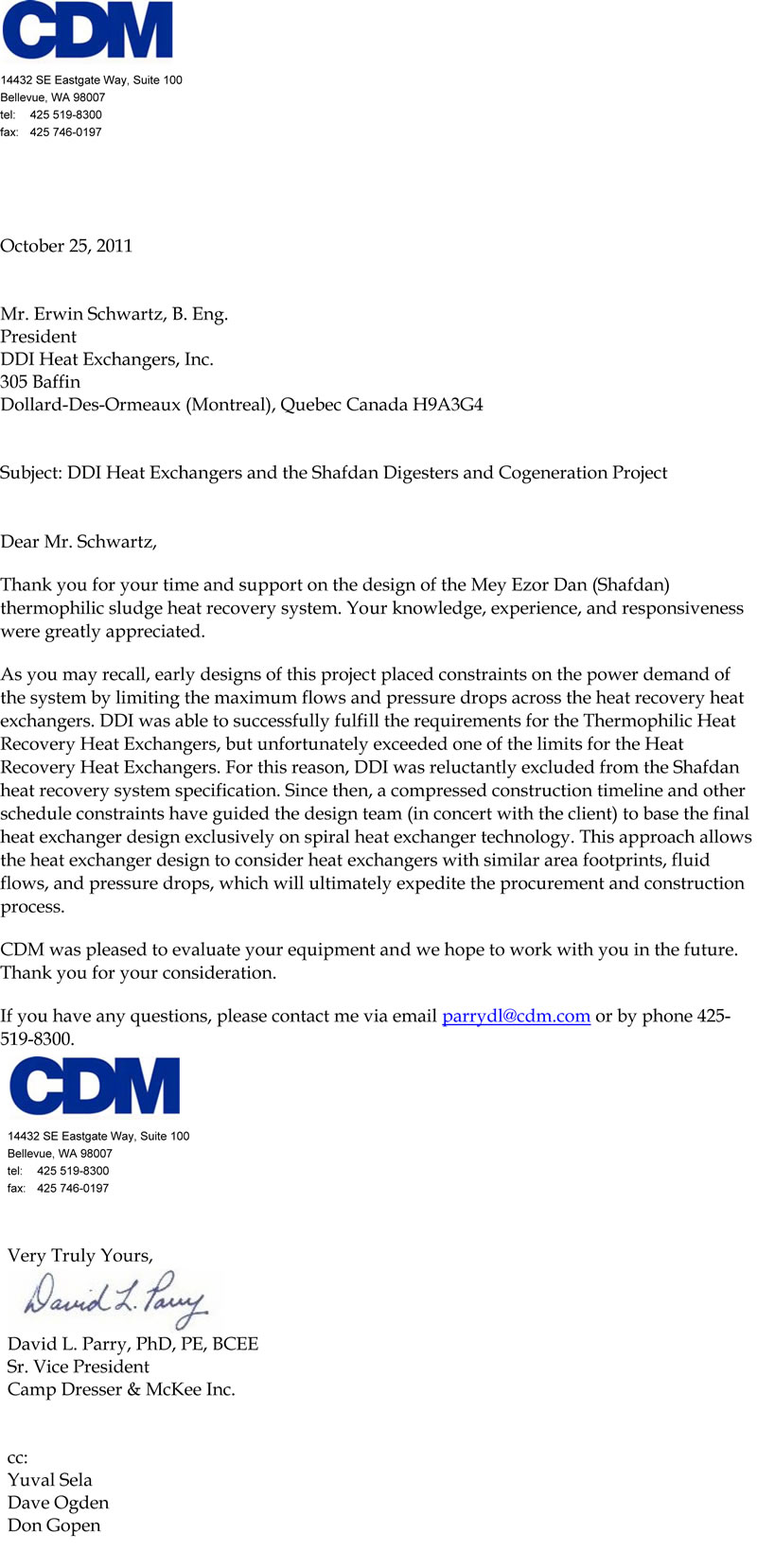 5 Feb 2009
Erwin, your name is gonna stick in my mind…for several reasons: You don't quit until you've explored all options and possibilities.
You obviously want to have satisfied customers, not just make a sale…..a person wishing only to make a sale will give it all in a couple of "blows" then, buy it or not, they're done.
You also obviously know your business and this day and time that's not terribly easy to find.
I thank you very much for the effort you've gone to for me on this.  It will not be forgotten.
A question for you:  Do you ever come to the US and are you coming toward East Tennessee anytime soon?   If you were to be, i'd very much like to set up a meeting with you and our Engineering group for you to discuss heat exchangers.
Take care and again, MANY THANKS for your help.
Lynn Herron
Engineering Projects
(423) 534-0428
The Pembroke Pollution Control Centre is using the DDI Heat Exchanger with very positive results.  Raw sludge with an average temperature between 11* C to 19* C flows through one side of the heat exchanger and re-circulated sludge from the digesters with temperatures ranging in the high thirty's flows through the opposite side of the heat exchanger.  This has resulted in substantial savings has the raw sludge is increased in temperature prior to entering the digesters at no expense to the City sewage system.  After almost two years of operation no plugging has occurred and it works as per specification.  I am very satisfied with the results of this piece of equipment.   
David Atkinson
City of Pembroke
Utilities Superintendent
Office 613-735-6821 ext. 1490
Cell    613-281-2141
Fax    613-732-7028
12 Sep 2007
Vitalix Inc. has been using the DDI heat exchanger almost a year now with very positive results. Raw molasses at 65% to 70% solids is running on one side and hot water on the other. We have had no problems with plugging or pressure buildup. We are also very pleased with the effectiveness of this unit in heat transfer. Thank you for your help and support.
Plant Mgr.  Doug Olson
308-762-8358
Vitalix Inc.
Alliance NE.