We will be at IFAT Munich Germany show, Booth A4 /306, 5-9 May
Take a look around, and don't hesitate to contact us with any questions or queries.
You may have some files on our site that will require Adobe Acrobat, which can be downloaded here
New

Feature
Comparing DDI "Rectangular, Square, Cube" tm Heat Recovery to competition
Since DDI's Heat Recovery System has a Minimum Gap of 3″ on both sides (to avoid blockage) it makes no difference which side has Water or Sludge, or even both sides could have Sludge (for Heat Recovery).  
We achieved our NON-PLUG design (compared to the Spiral design) via large GAPS, NO OBSTACLES and ROUND CURVES. 
DDI has achieved the possibility of having THE SAME FLOW in both sides (for Heat Recovery), compared to Tube and Shell exchangers which cannot do it (see the SURFACE Heat Transfer area and FLOW area Comparisons). 
DDI's overall size is SMALLER then the Tube and Shell and does not require Grinders or Macerators or Screens (saves 200,000$ in 10 years) as the Spiral design does. 
We have had many Engineers working for many years to come up with this design and TESTED it in real life with MANY working units.
Our

Mission
To provide high quality Heat Exchangers with our unique, efficient, non-pluggable design.
Our Heat Exchanger is the ONLY efficient heat-recovery exchanger available.
Company

Profile
DDI was founded in 1980 and has been providing quality service and reliable solutions ever since. DDI is a well established Canadian company experienced in the design and manufacturing of plate type heat exchangers specifically suitable for applications in heat recovery from liquid waste materials containing large size solids such as municipal sludges and many other processes.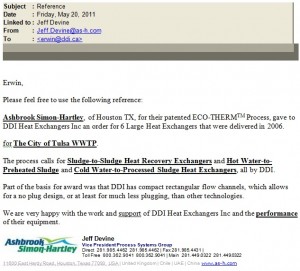 Contact

Information
Telephone
514-696-7961
FAX
514-696-8344
Mailing address
305 Baffin, Dollard-Des-Ormeaux (Montreal), Quebec Canada H9A3G4
U.S. Address
(Please send mail to the mailing address above)
Electronic mail
General Information: Contact Us
.
.
Please help us to improve

and promote the new
GREY WATER "Energy Recovery Solution".
By emailing us your comments. We thank you for your support.