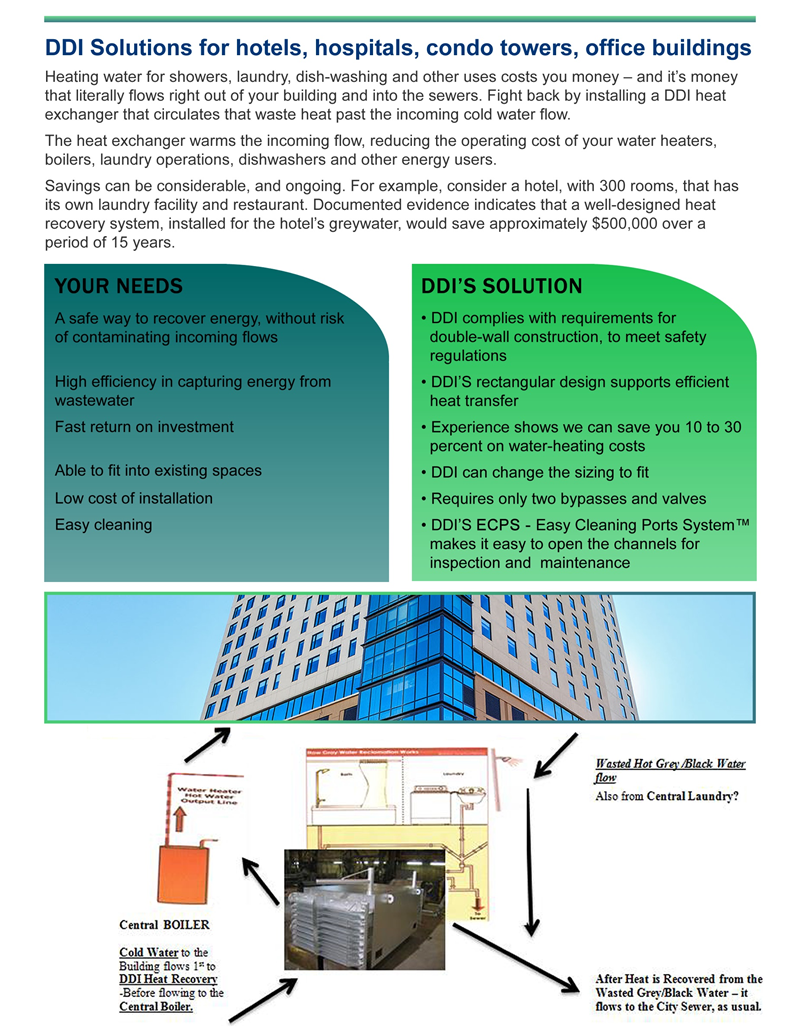 ---
Energy Recovery Solution From GREY WATER
Here is a practical and simple solution to save energy which is wasted.
And get a Return On Investment within 1-3 years.
INNOVATIVE APPROACH IN HEAT RECOVERY FROM SLUDGE
using  "Rectangular, Square, Cube" LARGE GAP, 
METHODOLOGY
Failed attempts to modify existing Spiral, and  Tube-in-Shell, Heat Exchangers for Heat Recovery application due to PLUGGING or BAKING, led to the development of new breed of DDI "Rectangular, Square, Cube" Large Gap Heat Exchangers that provide worry free, NON PLUG operation, despite presence of stringy and sticky materials in municipal sludge.
Brief
DDI Heat Exchangers Inc. Designs & Manufactures unique types of Heat Exchangers & Heat Recovery Exchangers with Rectangular channels.
Sold via network of Professional Rep's in USA, Canada and other countries. The Patented Design allows for liquids of very high % solids to flow without Plugging or Baking.
 Direct-Sludge-to-Sludge Heat Recovery, in
Waste Water Treatment Plants or Pasteurization or Molasses or Industrial Processes

, or large Buildings.

 

Societal Benefits included are:

The system reduces carbon dioxide going into the atmosphere.

And Heat Recovery & Energy savings (that have become even more critical in every industry) became possible.

(Green Technology)    Plus Saves Big Money.

You already know water is absolutely essential. What most people do not think about is the tremendous energy used and lost by buildings receiving water. Imagine your own water consumption for:
Showering and using the bathroom
Dishwashing
Laundry                
   Now multiply that usage by hundreds or thousands for those living in a Large Commercialor Multi-family building, Hospital,  Hotel,  Laundry.
Other large users of water, which means are using and often wasting energy include:
Municipal Waste Water Processing and Treatment
Large farms
Paper mill
Other large industrial plants like

Laundry, Brewery, Dairy

etc.
 Energy Recover Solution Has Patented Technology with Major Benefits Including:
Save 20-50% on building heating and cooling costs.
Easy to install.
Nearly maintenance free.
Virtually clog free, no more down time from clogging.
For  HOTEL with 100 rooms  and Laundry and  Restaurant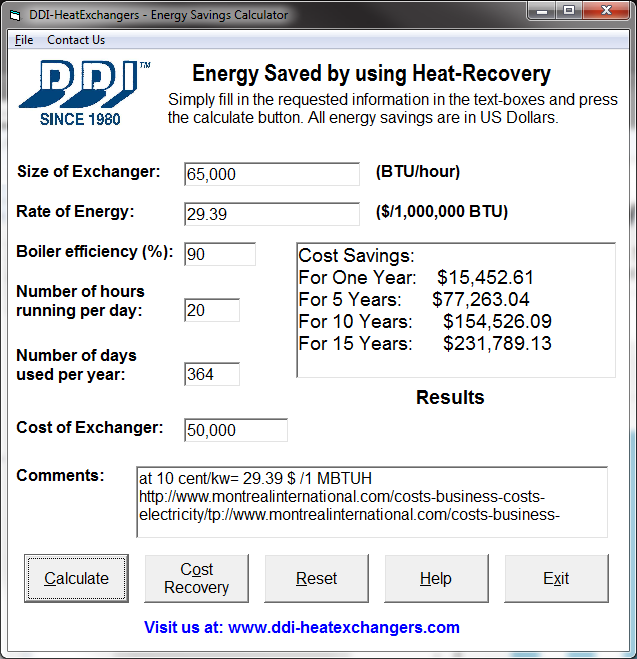 DDI is offering to the Customer (in order to reduce its initial capital cost) to pay ONLY part of the Capital cost.
The City can install the HX from their operating budget.
DDI and the City, both will share the cost of the Energy saved via Heat Recovery by the DDI Direct-Sludge-to-Sludge HX for many, many years.
             DDI-Heat Exchangers Inc,        Tel: 514-696-7961
Email:       www.energyrecoverysolution.com